Dr. Darren Honest, DVM
Dr. Honest graduated from the Ontario Veterinary College in Guelph with honours in 1996. He worked as a small animal veterinarian in downtown Toronto before coming to the Bayview Village Veterinary Clinic in 2004. He frequently participates in continuing education seminars and workshops to ensure his patients are offered the most current, effective treatment modalities available. In his spare time, Dr. Honest enjoys many hobbies including golf, hockey, chess (which he rarely wins when playing his son) and watching his beautiful daughter dance. Even at home his pets (three rambunctious cats) keep him busy with veterinary care.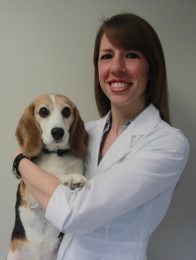 Dr. Samantha Marion, HBSc, DVM
Dr. Marion first started at Bayview Village Veterinary Clinic as a high school student in 2000, and continued to work as a receptionist and assistant throughout high school and university. Dr. Marion went on to complete her Honours Bachelor of Science at the University of Guelph, and graduated from the Ontario Veterinary College in 2010. Shortly after graduation, Dr. Marion moved to Calgary, AB, where she spent almost five years practicing in a small animal veterinary clinic. During that time, Dr. Marion developed an interest in preventative medicine, nutrition, and dermatology. Dr. Marion returned to Bayview Village Veterinary Clinic in April 2015, and she is very happy to be back! In her spare time, she enjoys reading, travelling, and spending time with her husband and her beagle, Snoopy.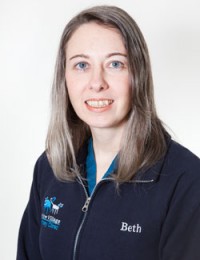 Beth Verge
Beth has worked in the veterinary field since 1990 as an Animal Care Assistant and Technician. In 1996, Beth graduated from Centennial College's Computer Programmer/Analyst program. She joined Bayview Village Veterinary Clinic in 2005 as a receptionist and is now our office manager. Beth works hard behind the scenes ensuring the clinic runs perfectly from computer technology to inventory regulation. When not at work, she enjoys spending time with her husband Lawrence, Leo the cat, and Nedda the dog.
Registered Veterinary Technicians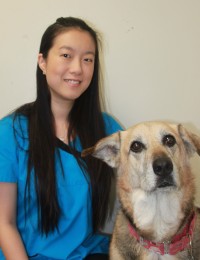 Karen Ho, RVT
Karen is a Registered Veterinary Technician and has been with us since 2007. She began as an intern after graduating from the University of Guelph, Ridgetown College. Karen has experience working in emergency medicine and loves her role as an RVT. She enjoys the challenges of emergency medicine, the satisfaction of caring for critically ill patients, and performing dental cleanings. Karen is fluent in Cantonese. When not at work, Karen enjoys spending time with her dog Mya and her kitty, Pinkie.
Carmen Yeung, HBSc, RVT
Carmen is one of our Registered Veterinary Technicians. She joined the clinic in January 2015 as a veterinary technician co-op student and graduated from Seneca College in May 2015. Before becoming a veterinary technician she completed an Honours Bachelor of Science in Life Sciences at McMaster University. Carmen's favourite parts of being an RVT include performing dental cleanings, meeting new puppies and kittens, and caring for hospitalized patients. Carmen has a small dog named Chewy and a cat named Nibbler. In her spare time she enjoys cooking, traveling, and spending time with her family, friends, and pets.
Customer Care Representatives and Animal Care Attendants
Audrey Pang
Audrey joined our clinic in 2016 as one of our customer care representatives and animal care attendants. She is currently studying at Seneca College to become a Registered Veterinary Technician. Audrey loves being able to work with pets and has a passion for fish keeping, but is thinking of eventually adding a furry member to her family. When not at work, she enjoys cooking, hiking and bird watching.
Pictures and profiles on the way…
Laura Adam
Anna Chen
Jessica Lee
Michelle Shoong
Kathy Beacham
Kathy is joined our team in 2015. She has worked for a number of years in the veterinary field and has experience with both small and large animals. Her wonderful "Family" includes Gaston, the toy Manchester terrier, and 3 cats, Luke, Misty, and Una. She has a passion for horses and would like to adopt a retired racing greyhound again soon.
Picture and profile on the way…
Arushi Chaudhary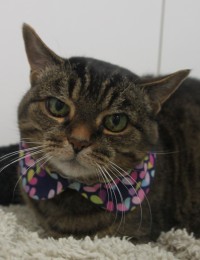 Mommy
Mommy lived with us at the Bayview Village Veterinary Clinic for over 13 years. She initially worked very hard being a surrogate "mommy" for poor little kittens found without one. Clients may not have seen her as she was the silent strength behind the scenes. She would sit on the ledge above the treatment area ensuring that all patients got the best possible care. She also made certain that staff members were interrupted during lunch breaks by gingerly walking over their food every day and jumping onto their laps while they worked on the computer. Mommy passed way on December 30, 2016. We miss her dearly.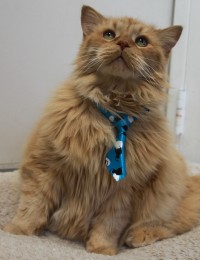 Sandy
Sandy was a veteran of the Bayview Village Veterinary Clinic for over 16 years. He was a favorite of clients, patients, and team members alike. From the very large dogs he enjoyed rubbing up against to the small puppies he introduced to "the world according to cats," and to his fellow felines, Sandy was welcoming friend. He was a dedicated member of our team at the clinic. Sandy passed away on May 25, 2017. We miss him dearly.