Dr. Darren Honest, DVM
Dr. Honest graduated from the Ontario Veterinary College in Guelph with honours in 1996. He worked as a small animal veterinarian in downtown Toronto before coming to the Bayview Village Veterinary Clinic in 2004. He frequently participates in continuing education seminars and workshops to ensure his patients are offered the most current, effective treatment modalities available. In his spare time, Dr. Honest enjoys many hobbies including golf, hockey, chess (which he rarely wins when playing his son) and watching his beautiful daughter dance. Even at home his pets (three rambunctious cats) keep him busy with veterinary care.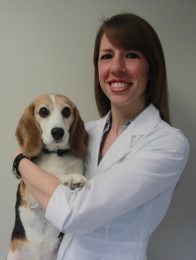 Dr. Samantha Marion, HBSc, DVM
Dr. Marion first started at Bayview Village Veterinary Clinic as a high school student in 2000, and continued to work as a receptionist and assistant throughout high school and university. Dr. Marion went on to complete her Honours Bachelor of Science at the University of Guelph, and graduated from the Ontario Veterinary College in 2010. Shortly after graduation, Dr. Marion moved to Calgary, AB, where she spent almost five years practicing in a small animal veterinary clinic. During that time, Dr. Marion developed an interest in preventative medicine, nutrition, and dermatology. Dr. Marion returned to Bayview Village Veterinary Clinic in April 2015, and she is very happy to be back! In her spare time, she enjoys reading, travelling, and spending time with her husband and her beagle, Snoopy.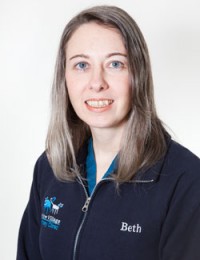 Beth Verge
Beth has worked in the veterinary field since 1990 as an Animal Care Assistant and Technician. In 1996, Beth graduated from Centennial College's Computer Programmer/Analyst program. She joined Bayview Village Veterinary Clinic in 2005 as a receptionist and is now our office manager. Beth works hard behind the scenes ensuring the clinic runs perfectly from computer technology to inventory regulation. When not at work, she enjoys spending time with her husband Lawrence, family, and friends.
Registered Veterinary Technicians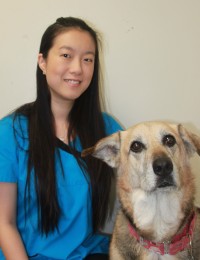 Karen Ho, RVT
Karen is a Registered Veterinary Technician and has been with us since 2007. She began as an intern after graduating from the University of Guelph, Ridgetown College. Karen has experience working in emergency medicine and loves her role as an RVT. She enjoys the challenges of emergency medicine, the satisfaction of caring for critically ill patients, and performing dental cleanings. Karen is fluent in Cantonese. When not at work, Karen enjoys spending time with her foster cat Dee.
Carmen Yeung, HBSc, RVT
Carmen is one of our Registered Veterinary Technicians. She joined the clinic in January 2015 as a veterinary technician co-op student and graduated from Seneca College in May 2015. Before becoming a veterinary technician she completed an Honours Bachelor of Science in Life Sciences at McMaster University. Carmen's favourite parts of being an RVT include performing dental cleanings, meeting new puppies and kittens, and caring for hospitalized patients. Carmen has a small dog named Chewy and a cat named Nibbler. In her spare time she enjoys cooking, traveling, and spending time with her family, friends, and pets.
Julia Moran, RVT
Julia graduated with honours from Sheridan College's animal care program in 2018. She started at the clinic as a veterinary technician co-op student in January 2021 and graduated with honours from Seneca College's Vet Tech program in April. She officially became registered on August 6th. As an RVT, Julia's enjoys cytology, x-rays and puppy/kitten appointments.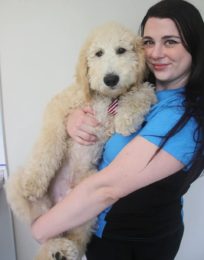 Anna Hartooni
Anna joined the team at Bayview Village Veterinary Clinic in 2020; prior to that she attended culinary school and worked as a chef for 8 years in various fine dining restaurants. Her love and passion for animals was always a huge part of her life and even though she loved cooking she decided to finally make the career change into the veterinary world and she has never looked back. She had a wide array of animals growing up and she currently has a young standard golden-doodle, a senior bichon frise, a leopard gecko, a frog, and multiple exotic fish. She is looking forward to attending the Veterinary Technician program at Seneca College next year and continuing her lifelong dream of a career in animal care.
Customer Care Representatives and Animal Care Attendants
Kathy Beacham
Kathy joined our team in 2015. She has worked for a number of years in the veterinary field and has experience with both small and large animals. Her wonderful "Family" includes Gaston, the toy Manchester terrier, and cats Luke and Una. She has a passion for horses and would like to adopt a retired racing greyhound again soon.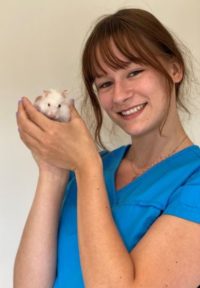 Abbi Boone
Sharlene Su
Alison Lam